Making sure to get everything documented for this month's
12 of 12
, because I have this feeling I won't be getting this layout done on time. Don't wanna forget why I took so and so picture, ya know? :) Note the posting time of this, yes, definitely a newborn in this house. So here goes my 2nd month of this project...
Waking up with Sam, giving him a little sponge bath. On this day, February 12th, Samuel is exactly 10 days old and his umbilical cord had not fell off yet. At his changing table, Sam likes to look at this stuffed doggie that Dylan gave to him at the hospital. Sam just stares at it and grabs at it's paws. I think Sam is so interested in this doggie, because of the black and white contrast.
UPS man drops off a package at the door! I love the way this photo came out too! It's Sam's teddy from Cliff's parents. I just love these teddies! Dylan got a similar one with a green bib when he was first born.
As you can see, we are still trying to figure out what formula, bottles, and water temperature Samuel prefers. Sam likes his babas room temperature so far. Soothie pacis may be awesome, but their bottles suck. So do the cheapo target brand ones. I like the vent-aires and Cliff grabs for the avent ones.
Dylan wakes up in a good mood! "Hops" (ha ha, okay I'll stop now) in to the bath tub and asks me to take a picture of him being the frog king.
I should probably mention at this point that I didn't actually wake up until about 2 PM I wanna say? Maybe it was 4? Pain medicated and over tired from not sleeping in the hospital. Anyhoo, here we are on our way to Grandma's to eat dinner. Dylan's good mood is gone as he ducks out of the picture.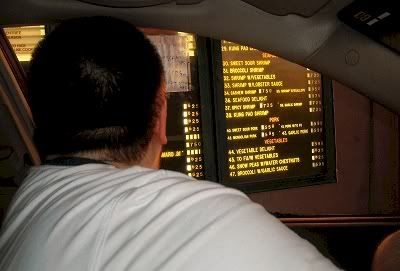 We all get Chik Fil A, but Cliff wanted Chinese from Top Wok. Their spring rolls are the best in town.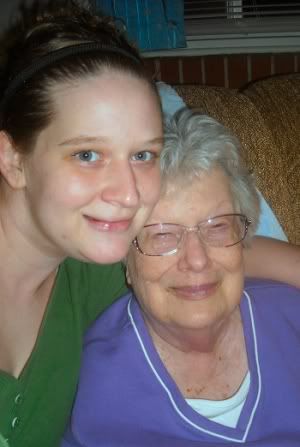 Grandma always tends to blink with photos so it's about impossible to get one of just the two of us that is semi-okay.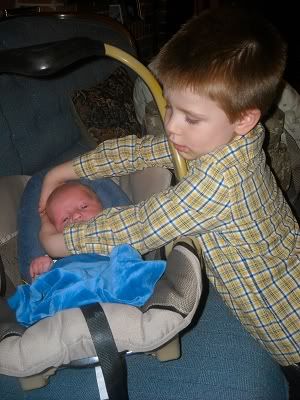 Packing up to leave after sitting around watching CNN and E! with Grandma. Funny how we can go from smart t.v. to complete mush. Me and Grandma drive Cliff insane with our ongoing commentary. This is Dylan "helping".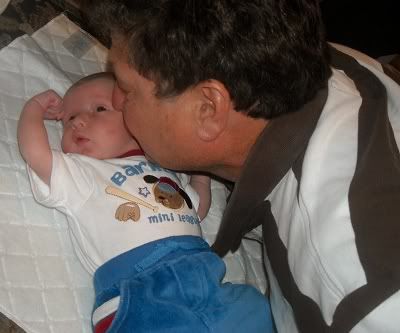 We head over to Cliff's parents' house. Cliff's Dad gives Sam a little smooch after I got finished changing him.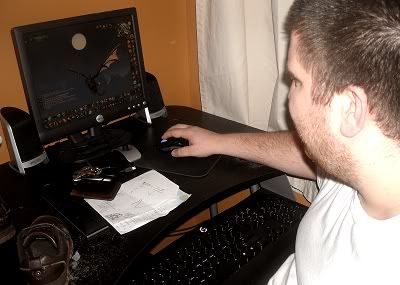 Cliff earned his epic flying mount dragon on World of Warcraft.
This frickin smoke alarm kept going off making me insane. It would beep the loudest beep about every 20 minutes. I would groan, Dylan would do his hissing snicker at me. Clifford finally decided to see what was up--needed new batteries.
We finished the night off making valentines for family members. Here's Dylan stamping out the hearts. Dylan always likes to play with ink.