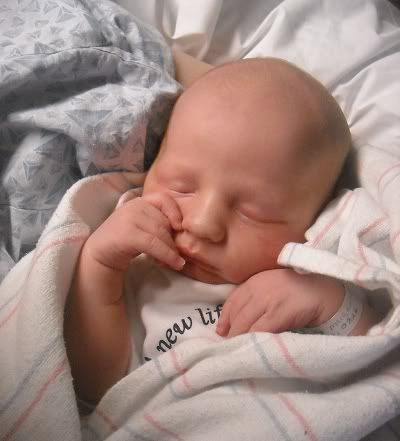 He's here! Healthy and big! He's the most calm and content baby. Hardly cries, makes little "raccoon noises"/grunts when upset. Sam is so strong. He held his head up off our shoulders his first night. He already tries to roll over, getting about 3/4's the way to doing it.



During the whole c-section, I was alert and aware of everything happening--something I was pretty concerned over before-hand. It was student nursing observation day or something of the sort, so I had a few of them in on the birth of Sam. One of them, Betty, held my hand and it was her first time viewing a birth. She is the one that took the pictures of Sam's actual birth in the O.R., which I'm very thankful about. We have few pictures of Dylan's birth.

Sam came out and I had to wait a minute or two and then Cliff brought him over to me. I was so happy to finally see his face. I just remember saying, "Hi Sam!" over and over. I was just amazed and babbling. Cliff had the biggest, proudest eyes. Cliff took Sam out to meet the family. I was off to recovery for about 3 hours due to having a low temperature.

Dylan had been waiting with his grandmas and papas. Our hospital has a little window where family can watch the baby get his check-up, bathed, etc. Dylan had been peeking through the blinds to this area very anxiously. He was ready to hold and feed his baby brother. Any shirt with writing on it says, "Sam is the little brother and Dylan is the big brother" according to Dylan. We got to go home only after 2 nights-- so happy, as I was being told 3 nights was the minimum and I should expect 4.

Second children really do mellow you out. I'm not as bossy and anal about how I want things done. I still have ideas on how I would like it, but don't stress/freak out when it doesn't happen that way. Maybe it is because Sam is so chill compared to Dylan? Or being 25 vs. 21 years old this time around? Or because I'm not nursing an episiotomy and already up riding in the car? Or that Cliff got 2 weeks leave for Sam vs. 4 days for Dylan? Probably a combo of all of this. :) I'm not good with babies, I'm just not. But, I am honestly happy.