Cliff's Meemaw was known for her chocolate-peanut butter-oatmeal- no bake cookies. Many have tried, but even when she was alive, no one was able to make them like her. Found in her purse when she died was the recipe written out on little slips of paper to hand out to people, because she was asked about the recipe so much.
Cliff's family is trying to find the person who can make them as good as Meemaw, or at least as close as possible. It's a way to remember her in a happy way and continue on the recipe's tradition. So far, Cliff is the one who has made the cookies the best. :)
So as Meemaw would, I'm sharing the recipe with yall. :)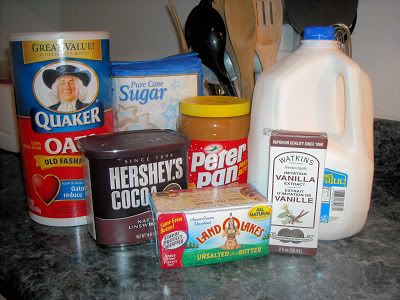 Now here are some important parts to the ingredients. You MUST use real butter. You MUST use Hershey's Cocoa. She only used Watkins brand Vanilla. And we didn't, but I can almost guarantee Meemaw would've used whole milk. Cliff is saying that Peter Pan brand Peanut Butter is a huge MUST, but I'm betting any non-store brand peanut butter would be fine.
Boiling to 2 minutes is a big deal as well. Otherwise, they will never harden and just be mush.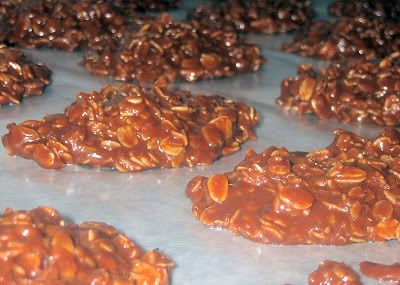 They should NOT be glossy. They should be a dull brown color, so this photo probably isn't the best to show you, as the color is completely off in this one. Do NOT try to quicken up the hardening time by putting these in the freezer or the fridge. It won't work.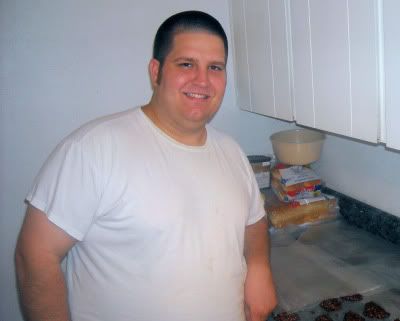 The cookies should take about 1-2 hours to harden up and dry. Apparently, after talking to a lot of people, everyone prefers eating them at a different consistency in the drying process. Cindy (Cliff's Mom) likes them immediately off the wax paper when they have got to a pick-up-able stage. Cliff likes his best after being in an air-tight type container for 2 or 3 days. I like them cold after being in the fridge overnight--past the wax paper drying stage of course.
Oh, See this picture above? This is one of the happiest grandsons in the world. Cliff was jumping
around every few minutes telling me how they look right and smell right, just like Meemaw's. He was positively beaming.